1965 Cessna 182H N2056X
*Contract Pending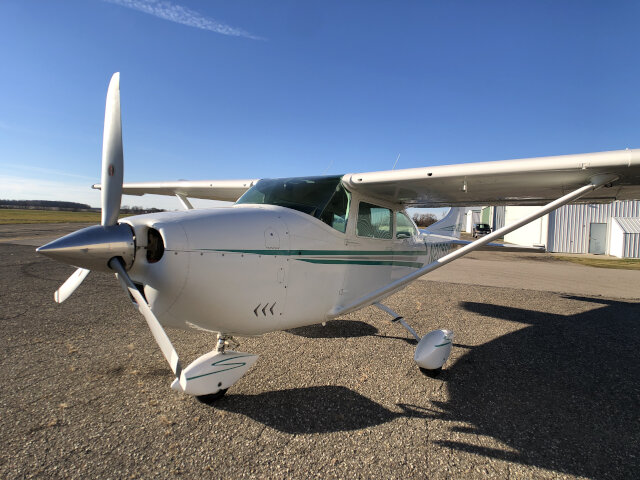 Great IFR Cessna 182 with lots of Garmin Avionics, ADSB, Approach Certified GPS, long range fuel, great paint and interior, recent new glass, low time engine and Hartzel 3 blade Scimitar prop, all logs, wheel pants, big useful load and more!
N2056X
1965 Cessna 182H
S/N 182-56165
As of TACH: 3187.2, times subject to change cause its fun to fly!
5054.2 Total Time Airframe
466.8 Engine Time SMOH
317.3 Prop Time SNEW
All Logs, No Known Corrosion, No Known Major Damage History
Last Annual 12/22/2020, Next Due 12/31/2022  
IFR cert 2/26/2021, Next Due 2/28/2023
Gross Weight 2800, Empty Weight 1797, Useful Load 1003!!
Fuel Capacity 79 Gals
Garmin GNX375  IFR GPS/Transponder/ADSB/Weather/Traffic/Approaches
Garmin GMA345 Audio Panel with Bluetooth and 4 place stereo intercom
Garmin GTR-225 Digital COM
Garmin Aera 660 GPS panel mounted
King KX170B #2 Nav/com
Garmin G-106 Indicator
UAvionix AV30C Glass Panel DGElectrnoics International Digital Oil temp/Press Gauge
SIGMA TEK 5000-36 Horizon
Stratus USB port
ACK A-30 Encoder
TTAF: 5054.2
Shoulder Harness for Pilot/Copilot
Factory Wheel Paints Painted to Match
Elevator Trim
Rudder Trim
Recent New Windshield
New Side Glass in 2020
Cleveland Wheels and Brakes
Door Stewards  STC SA01120SE
LH Fuel Cell New 12/2010
RH Fuel Cell New 10/2000
Gill G-35 Battery New 12/2020
Horizontal Stab Replaced 4/30/2002
Mid American STOL Kit STC SA1371SW
Rear wing carry through spar replaced 2020 due to a small area of corrosion, as a result of a leaking roof panel, new roof panel installed.
SMOH: 466.8, Overhaul 9/20/2011
Continental O-470-R 230hp, s/n 131066-4
Tanis Preheater TSP6CYL-2927-11 STC SA03309CH
P&M ENT Oil filter adapter
Engine Mount repaired 11/2005
Prop strike inspection 3/28/14 TACH: 2869.9 SMOH: 209.5
Recent new charcoal leather colored 4 place interior in excellent condition!  No tears, rips, or stains, very nice! Very comfortable seats!  See pics.
Great IFR 182 seeking a new loving home.  Trades considered including flyable aircraft, run out or run down aircraft, car/truck or ?. All information represented to the best of our ability, Buyer shall verify all information, equipment, specs and times.
call Shawn at 888-261-7799
Shawn's Cell (888) 261-7799
Location
647 E. Chicago 
Coldwater, MI 49036
Open Hours
Mon: 8am - 5pm
Tue: 8am - 5pm
Wed: 8am - 5pm
Thur: 8am - 5pm
Fri: 8am - 5pm
Sat: 7am - 4pm 
Sun: 7am - 4pm