1957 Piper pa18a Super Cub
*SOLD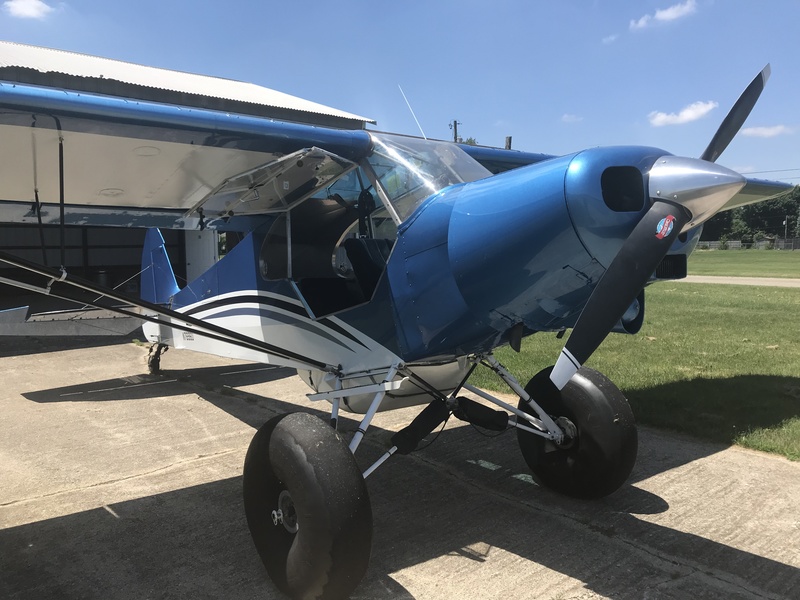 Great bush ready Super Cub.  Built by Dan's Aircraft in Anchorage AK.  Long list of mods. Recent Paint, beautiful aircraft!  Runs strong, flies straight, very well optioned STOL aircraft!
Year – 1957

Make – Piper

Model – PA 18A

Price: *SOLD

Location – Hangared at "1L8" Hurricane Utah

S/N- 18-5924

Registration – N7696D

AFT – 4100*

SMOH – 175*

Prop SPOH- 208*

Flight rules – VFR

Last Annual – March 2020, Next Due April 2021
* Times are approximate, aircraft is flown
King 97A Digital Com
King KT76A Transponder
Garmin GPS150
Intercom – 2 place 
JPI FS450 fuel flow
Electronics International digital Oil pressure/temp gauge
Electronics International digital EGT/CHT
Recent battery
Last VFR Cert 4/2/18
New Imron Paint April 2018, White with metallic blue and silver, very deep gloss, gorgeous!
Recovered with Ceconite in 1999, excellent fabric.
Fuel Capacity- 36 gals wing tanks, 32 gals belly tank, total fuel 68 gals
Airglas 2500 skis with new tires mounted on spare wheels.
All Logs
No Corrosion
No Hail Damage
Lycoming O-320-2AB  160 hp
SMOH – 175*
Very strong engine, starts good, runs smooth.
McCauley 1A175/GM8044. 
SPOH – 208*
Dual Flight Controls
Black Velour seats in very good condition.
Folding seats mod.
Under rear seat storage.
Extended baggage
Engine and Prop Dynamically Balanced
115 Volt Engine Oil Pan Heater
Airwolf Oil/Air separator
Rosen Visor
Micro Aerodynamics Vortex Generators
160 hp engine STC
Alaska Bushwheels 31-13-6 tires
Cleveland brakes
Airglas LW2500 wheel penetration skis w small set of wheels and tires
Atlee Dodge long gear step
Front seat folding seat mod
Hinged rear seatback.
Removable rear seat crossbar mod
Rear seat under seat storage box
Atlee Dodge aluminum headliner and side panels
Atlee Dodge 3″ extended main gear
Atlee Dodge landing gear fueling steps
Atlee Dodge landing gear safety cables
One-piece, top-hinged right side door
Top hinged left opening window
Modified baggage area Y brace
Extended rear baggage
Upper baggage access door.
Whelen strobe
Atlee Dodge remote compass bracket
12″ extended wing leading edge
Flaps extended 4-1/2″
C. Center leading edge cuff mod
Left-hand tail pull handle
Left and Right Univair Dual landing lights
Atlee Dodge aircraft tie-down bracket
Pulselight flashing landing lights
Square elevator mod by Day & Night
32 gal belly fuel tank
Peterson Aviation Mogas STC (aircraft has only been operated on 100LL since engine OH)
Electronics International digital EGT/CHT
Electronics International digital oil temp/pressure gauge
JPI FS450 fuel flow
InterAv alternator kit
Sky-Tec starter
Partial Aluminum Belly
Float Fittings and Lift Rings
Heavily modified Super Cub, with all the desirable bush mods.   Recent paint is absolutely stunning, looks like a brand new airplane.  Times are subject to change cause it's so much fun to fly. Specs and times subject to buyer verification.  Wholesale trades considered including aircraft, cars/trucks/motorcycles, motorhome or other.
Rob's Cell (888) 261-7799
Location
647 E. Chicago 
Coldwater, MI 49036
Open Hours
Mon: 8am - 5pm
Tue: 8am - 5pm
Wed: 8am - 5pm
Thur: 8am - 5pm
Fri: 8am - 5pm
Sat: 7am - 4pm 
Sun: 7am - 4pm