1968 Cessna 402 N8422F
*Under Contract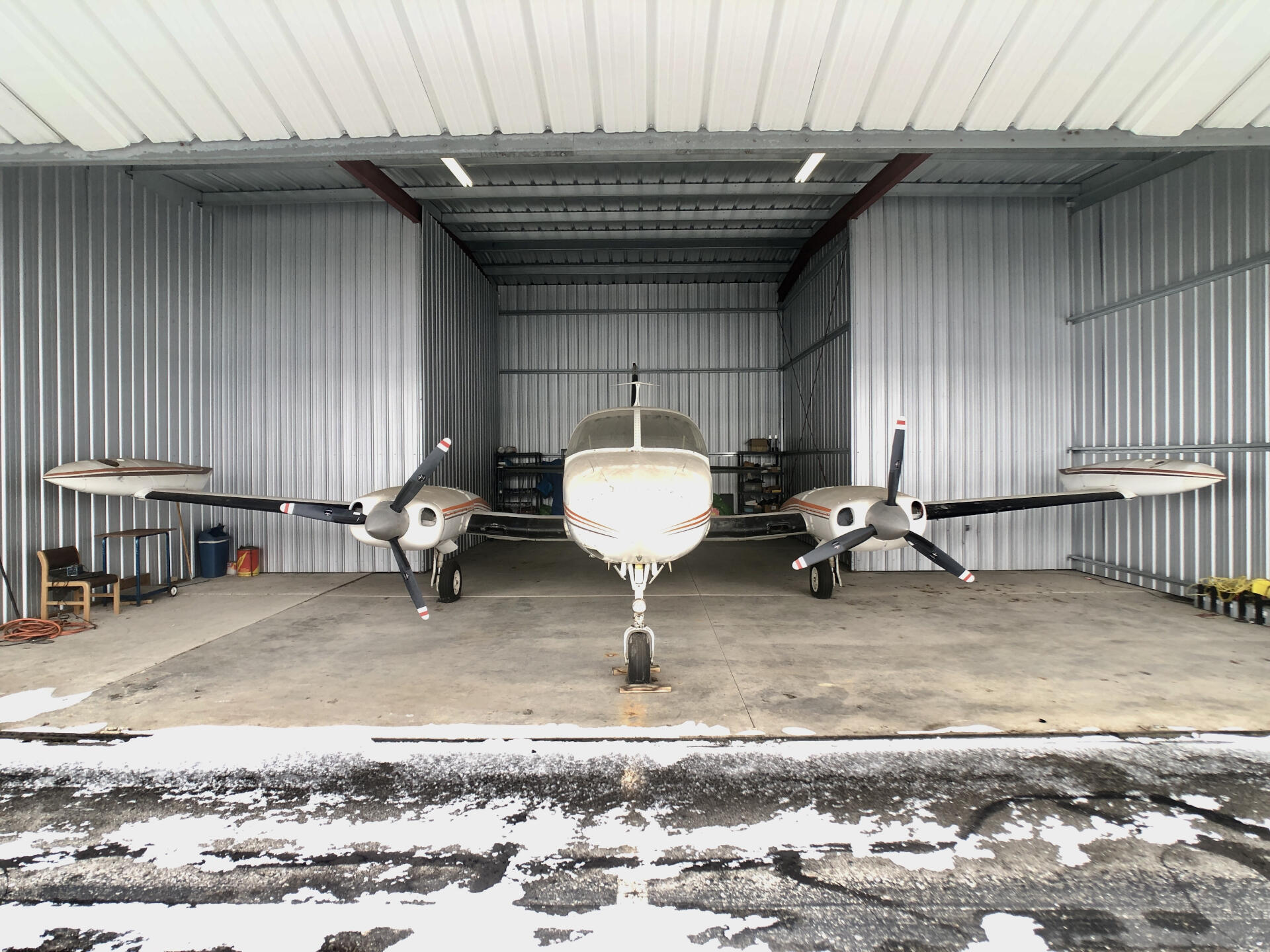 Project Cessna 402 with low total time, stored inside, good history.  Previously operated by the Allen County Sheriffs dept for prisoner transport before being purchased by a local gentleman who intended to use the aircraft for personal use when he got his medical back, which never occurred.This aircraft is being offered at a very low price to settle an estate.Appears to be a solid, straight, clean airframe. Low time engines and props on old overhauls.  Older King radios.
N8422F
1968 Cessna 402
S/N 402-0270
8188 Total Time Airframe
596/851 L/R SMOH, Continental TSIO-520-E
29/28 SPOH McCauley 3-blade prop, 3AF32C87-NIR
All Logs, No Known Damage History, No Hail Damage, No Known Corrosion
Full digital logs uploaded to website
Last Annual 9/2000
Gross weight 6300 lbs
Useful load 2336 lbs
King KMA24 Audion Panel
King KX 155 nav/com w/ glideslope
King KX175B nav/com w/ glideslope
King KT76 transponder
WX10A Stormscope
Bendix T12D ADF
Cessna 400 autopilot
Co-pilot instruments
Alcor EGT
Clock
OAT
Very straight airframe and sheet metal, very few, dings, dents, hangar rash etc,
Much cleaner sheet metal than most aircraft of this model/vintage.
Cowls and tip tanks sheet metal above average condition for year/model.
Very small wrinkle at bottom trailing edge of rudder (see pic)
Cargo door.
Wing locker fuel tanks
De Ice boots have been removed.
Alcohol windshield
Hot props.
Older paint in decent condition.
Older glass appears to be in airworthy condition, with a few scratches and some crazing.
No significant corrosion problems visible externally
Engines beams appear very good from our visual inspection
Spar AD due at 15,000 hours, has 6800 ish hours remaining.
Surface corrosion noted on steel fasteners, fuel caps etc.
No significant issues visually noted on gear legs/bracing etc
Nose strut oil leak.
Tires show checking due to age.
596 SMOH Continental TSIO-520-E left engine, last overhauled 11/1998
851 SMOH Continental TSIO-520-E right engine, last overhauled 10/1985
Props turn overly freely by hand with no abnormalities noted.
Several spark plugs pulled appeared typical with no significant corrosion.
One exhaust stack older style, not airworthy by AD.
29 SPOH McCauley 3-blade prop, 3AF32C87-NIR, last overhauled 09/1998
Props visual inspection indicates no visible discrepancies.
Interior in good condition, older fabrics and colors.
7 seats in good condition.
Curtains in good condition.
Headliner looks good.
Pilot and co-pilot vent windows
Located at Angola IN (KANQ) in a private hangar.
Inspection available by appointment.
Estate sale, the family wants to sell the airplane as-is where-is asap.
I have personally inspected the aircraft, call me with questions.
Priced at only $55,000 for quick sale
Call Shawn at 888-261-7799 for more info.
Shawn's Cell (888) 261-7799
Location
647 E. Chicago 
Coldwater, MI 49036
Open Hours
Mon: 8am - 5pm
Tue: 8am - 5pm
Wed: 8am - 5pm
Thur: 8am - 5pm
Fri: 8am - 5pm
Sat: 7am - 4pm 
Sun: 7am - 4pm